Join Dr. Nancy on KDKA-TV Pittsburgh Today Show on CBS December 23, 2014 at 9 AM to learn more about having a Real Conscious Holiday!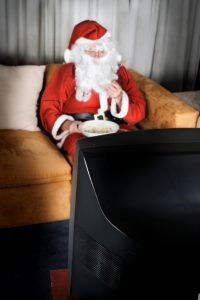 The reel holiday is the one you see on TV, and in the movies. When you see the perfect dinner, decorations, gifts and family gatherings, you may feel that yours doesn't measure up. You may start to feel that what you have is not enough and that you must do, bake, buy and be more to have the perfect holiday. But you can manage all of it and even resist the ads, and have a r-e-a-l holiday instead of a r-e-e-l one.

RxTV Prescriptions for a Real Conscious Holiday
Spending
Excessive exposure to holiday movies and TV , advertising, shows, concerts and shopping malls leads to excess in buying. The first time you see an ad for something like a food item, or a decoration on a DIY show you may not pay attention, but when you are told over and over that you need to buy it, bake it or wear it, it can become a part of your thinking and you may buy and view more, being taken in by the joy of spending – Especially when the ad show how happy gift recipients are.. The technique of repeated exposures is likely to cause an increase in spending. Just knowing this gives you the awareness to see it and not get hypnotized by the ads. Which leads to…..
The Perfect Gift
Research shows that people appreciate a positive experience more than a gift, and they remember the experience longer than they remember the gift. So if you are frazzled from shopping and preparing, the experience is not likely to be a positive one. On the other hand, the experience of the well-written card or a warm gathering at your home can be just what will be remembered long after this year.
The Perfect Family
TV families either have perfect get-togethers or they are very dysfunctional but in either case, everyone gets along in the end.
In real life, you may have family who can't be with you, or someone may have passed away, or you may see people you don't see often or don't get along with. The important thing is to be OK with what is going on in your life and understand that your family may be more like Two and a Half Men than The Bold and the Beautiful, or All in the Family.
The Perfect Romance
On Holiday shows and movies, it may take a while but in the end, the couple on the screen will have a happy ending. It can make your real life seem unsuccessful by comparison. Women and men are NOT as charming, witty and desirable as the ones on the screen, because on TV the idea is to escape into a positive experience so that you feel good at the end. Life doesn't always work that way! There are ups and downs in relationships and there are no perfect partners, so don't expect to find a match like Mike and Molly or (finally) Lisbon and Jane on The Mentalist. Giving gratitude directly to your partner for the things they bring to the relationship is much more likely to result in a happy holiday.
Drama
Some of the best dramas are holiday movies such as It's a Wonderful Life, A Christmas Carol, How the Grinch Stole Christmas and A Charlie Brown Christmas because they remind you of the true meaning of Christmas, so if you want to have a real Christmas, create one for yourself one, by watching these movies to help you recover the meaning of the season. And if you need to lighten up while remembering, watch Home Alone again!
Religion
There are many religious movies to view at this time as well as ceremonies, choral concerts and church services to get you back to the meaning of the season, if you are inclined. Christmas Wish, Christmas Miracle and Mrs. Miracle are a few of the most well-loved and the television series Touched by an Angel has a collection of 4 holiday shows.