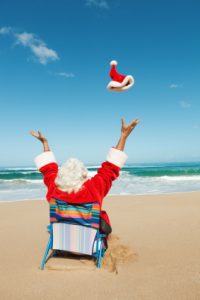 At the holidays, people are joyfully gathering to spend time with friends and family, eating and drinking traditional foods and enjoying the generous spirit of the season. And it is a time to remember holidays past, and dream of those in the future. So why isn't everyone happy at this time of year?
Sadness or grief may creep into a typically joyful time, if certain conditions exist:

Season Affective Disorder (S.A.D.) is caused when a lack of light upsets the body's natural balance. The disorder is especially likely to occur, if you are prone to experiencing it, during the winter months. For this reason it is referred to as Winter Blues. Dietary recommendations call for a balanced healthy diet, without too many starchy carbs or sugar and sufficient vitamin D. And remember, it is not a personal sadness, but is a biological one, that can be treated with lifestyle changes.
Past Grief, known as Anniversary Depression, occurs when you have had a traumatic event or loss around the holidays in the past. It can be especially severe during the year immediately following the loss or trauma, because the season, weather, events and people serve as reminders of the way things were one year ago. As you make new memories, you can move away from the sadness, building new memories and gradually find yourself enjoying the season again.
Life is not going the way you had hoped. Perhaps you have lost a loved one, relationship or job, or maybe you are experiencing a health issue.
Special circumstances:
Men – Men often react to feelings of loss or depression through busyness. They may exercise more, work or drink more and generally remain busy to avoid feelings of unhappiness. If you see a loved one behaving this way, kind words and an opportunity to express feelings will support them is a constructive way.
Women – women may become busier but they are also likely to withdraw during times of sadness. They may isolate themselves, soothe with food or other soft addictions and avoid social contact. Drawing them out may work, but just visiting and offering friendship and acceptance are also powerful tools to address their needs.
Seniors – the elderly have a special set of issues surrounding the subject of loss. They may have experienced loss of friends, health, mobility, family, mental capacity and even their homes. Providing love and support, friendship, a ride when needed and a companion will let them know they have more to live for in the future.
But there are ways to Cope and Thrive even during sadness or grief.
Remember to Remember. When grief and loss are a part of the holidays at any time, it is best to avoid suppressing feelings of grief and loss by trying not to think of the loved one who is gone. Remember the person who has passed and invite everyone who is missing them to do the same, recalling happy times, positive memories and what you appreciated about the person.
Gratitude! Give thanks for every good thing in your life. While there may be things to grieve there are always things to appreciate. Step aside from seeing what is missing and view the blessings that remain.
Fun Do things you enjoy to remind you of how to feel the joy of life. Do them with friends and family to increase the social contact that creates happiness.
Grief Simply grieve. Allow yourself to go through the stages of grief and feel the feelings that must be resolved before grief can complete itself. Write the person who has passed a letter if there are unresolved issues or words unspoken. Journal your feelings to release them and keep them from being suppressed. Organize a memorial to their life. Make a donation in their name. And remember, recovering from grief is not a linear process. While you will feel better with time, remembrances, objects and times of year may trigger grief, in a spiral fashion. So at the holidays, love and accept exactly where you are, honor your feelings and do what you feel is best to move you forward.
Seek Help If you do not feel better or the grief/sadness is persistent or unresolved, seek the help of a professional therapist to help you to heal.
Many blessings to all from Dr. Nancy Mramor, and Transformedia, LLC